Biomedical Lab
Introduction
Biomedical Lab is the most comprehensive research group in the KIMIRo. The Lab conducts both fundamental research and medical application of micro/nanorobotics. Based on PhD or MS degrees on distinct research fields, mechanical engineering, microbial engineering, immunology, pharmacology and veterinary medicine, members focus on the development of the advanced medical micro/nanorobot by multi-disciplinary collaboration.
The primary mission of the Lab is to develop more biostable and biocompatible, more active controllable, and more curative cell-based medical micro/nanorobots. The secondary mission is to preclinically qualify and to support general medical micro/nanorobots medically in the KIMIRo.
Research issues
Currently, biomedical Lab research subjects are focused on the development of the cell-based medical micro/nano robot for incurable diseases treatment and tissue regeneration
Our faculty's Main research areas include:
Hybrid actuating immune cell-based therapeutic microrobots an alternative therapy for cancer, inflammation, neurological disorder
Active actuating stem cell-based microrobot for tissue regeneration
Current projects
Biomedical Lab is involved in interdisciplinary research projects as follows:
External Actuatable Nanorobot system
Medical evaluation of the nanorobot delivery and therapeutic properties using in-vitro/in-vivo disease model
Stem cell-based Biomedical Microrobot
Fabrication of stem cell contained micro-scaffold, specifically suitable for target organ
In-vitro verification of the stem cell proliferation and differentiation into target cell
In-vivo confirmation of targeting and tissue regeneration properties of stem cell-based microrobot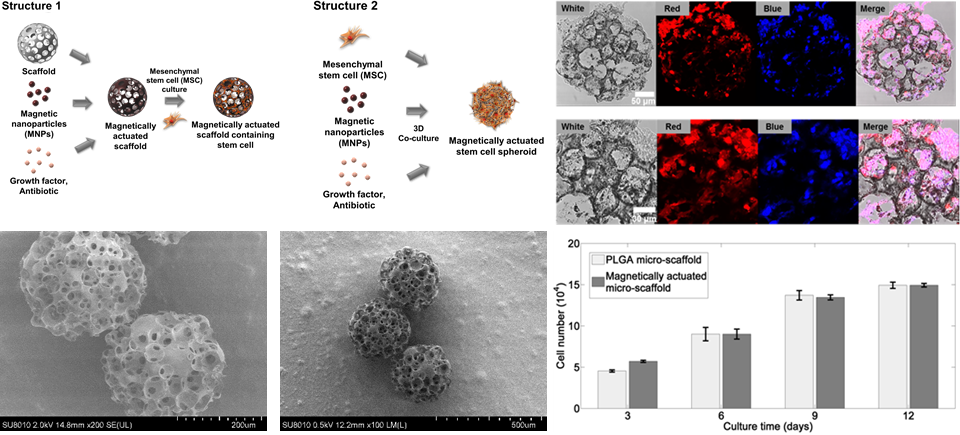 Photo Album
Nanobio Materials Lab
Introduction
The objective of Nano biomaterial Lab is to develop bio-compatible and bio-degradable materials for medical microrobots via the rational synthesis of nano- micro-structures with superior magnetic property and active control of microrobots motion and orientation. Our medical microrobots also provide a solution to current limitations in drug delivery systems and catheter-based surgery, for examples, (1) the difficulty in active delivery of drug-loaded carriers or nanoparticles at the desired location (2) the limitation of the accessibility of the catheter to the remote region in the capillary.
To challenge these issues, medical microrobots will be developed to enable active delivery at the desired location in the human body via locomotive motion. Additional functionalities, such as imaging, drug or cell delivery or molecular sensing could be enabled in the microrobots depend on its application.
Research Issues
The Nano biomaterial Lab is carrying out research to develop original and/or core technologies in the field of medical mirorobots and related technologies.
Its main research areas include:
Developing bio-compatible and bio-degradable materials for medical microrobot application
Designing micro/nano structures for drug or cell loading in the microrobots
Developing micro-fabrication technologies to enable unconventional functionality of the microrobots
Current projects
Stem cell-based Biomedical Microrobot
Core Technologies

Development of bio-compatible and bio-degradable microrobots for targeted stem cell delivery
Fabrication of porous micro-scaffold, coating of magnetic nanoparticles, and loading of bioactive molecules
Nanorobot System for Active Therapeutic Delivery
Core Technologies

Development of nanorobot system capable of precise magnetic control, drug loading and light-triggered controlled release
Development of reconfigurable swarms of multifunctional nanorobot structure (MF-NRS) for active delivery
Photo Album
Soft Robotics Lab
Introduction
Soft robotics has attracted interest from the robotics community in that the soft and flexible body can shape robots and thus overcome the limitations of traditional robots that come from their body made of hard materials. Our research team aims for developing soft robots that can autonomously maneuver and adaptively morph their shape in the human body and further used for microrobotic surgical procedures.
Research Issues
Soft Robotics lab focuses on research topics related to soft material characterization and modeling, soft actuators and sensors, and control and simulation of highly deformable structures that can be further utilized in microrobotic surgical applications. We study the feasibility of different materials and actuating mechanisms based on electro-polymer, magnetic-polymer, shape memory alloy and electromagnetic actuators.
Current projects
Self-locomotive soft robots for capsule endoscopy.
Feasibility studies on soft material in the body
Development of bio-inspired soft robotic locomotion and its control algorithms
Medical AI Lab
Introduction
Our research team aims for developing technologies that understand medical environments from non-invasive images and/or other sensing methods and delivers useful information to medical experts so that they can have better understandings of the environments. We focus on incorporating medical imaging and artificial intelligence technology to initiate surgical navigation and treatment planning related to microrobotic surgical applications.
Research Issues
Medical AI lab focuses on research topics related to medical image analysis that includes feature extraction, image segmentation, registration between different imaging modalities, and anatomical atlases. The development and implementation of such algorithms are utilized for virtual, augmented, and mixed reality for microrobotic surgical planning and guidance.
Current projects
MR (Mixed Reality)-based user interfaces for different microrobotic surgical applications
3d reconstruction of human anatomy from medical imaging (X-ray, MR, or CT)
Feature detection and matching in capsule endoscopic images for further image stitching and user-friendly view generation

EM Actuators Lab
Introduction
The Medical Actuators Lab aims at developing cutting-edge technologies on medical microrobots at various multiscale: meso and micro/nano-scale. The Medical Actuators Lab is keen to make a breakthrough in the next generation of medical robotics that will improve the targeted therapy and diagnosis based on advanced robotics, MEMS, nano- and bio-convergence technologies.
Research Issues
The Medical Actuators Lab is carrying out research to develop original and/or core technologies in the field of medical mirorobots and related technologies.
Its main research areas include
Powering and control mechanism of microrobots
Localization method of microrobots compatible with the magnetic actuation
Mechanism design and micro-fabrication technologies related to targeted therapy and diagnosis
Current projects
Active Capsule Endoscope
Core Technologies

Active locomotion technologies to overcome the limitations of the conventional flexible endoscopes and passive capsule endoscopes
Multi-functional capsule endoscopes including the performance of biopsies, drug delivery and tattooing
Externally Actuatable Nanorobot System
Core Technologies

Targeted nanorobot delivery and manipulation using an external navigation system
Modeling and control mechanism for swarm motion of nanorobots

Stem cell-based Biomedical Microrobot
Core Technologies

Fabrication of a magnetically actuated micro-scaffold containing mesenchymal stem cells for articular cartilage repair
3D position control and fixation mechanism of a large number of micro-scaffolds using external magnetic fields
Photo Album
US Actuators Lab
Introduction
The objective of Robot Application Lab. is to develop advanced robotic systems applicable to the field of medicine, industry, and service using robotics and mechatronics technology. We develop and apply unique and task-oriented robotic technology required in a variety of industrial areas. In particular, through conducting projects, we have possessed source and core technologies of image-guided brain surgery robot, robotic bed system for heavy ion therapy, and cable-driven parallel robot (a novel type of parallel robot), etc. Those advanced technologies have been utilized to implement the systems for medical environment and industry sites. Robot Application Lab. devote constant and pioneering effort to enhance global competitiveness in order to preoccupy future robotic technology and market.
Research Issues
Main research issues of service robotics team are related to the development of commercialized system, especially utilizing technology of cable robots and surgical robot. For cable robots, we have been developing the industrial prototypes of high speed and high payload cable robot with large workspace to increase productivity and effectiveness. Refining cable robot technology includes improving accuracy and manipulation reliability, configuration calibration cable modeling, and vibration reduction. For surgical robots, we have improved robot's accuracy, usability, and safety in clinical environment, such as compensating for patient's weight and biological movement, 3D reconstruction and projection of surgical environment and force feedback, and patient protection using virtual wall and fail-safe operation.
Current projects
Service robotics team has been carrying out projects for cable robotics funded by government ministry and local government. The projects are "Joint Robotics Laboratory of CNU RRI in collaboration with Fraunhofer IPA" (Leading Foreign Research Institutes Recruitment Program) and "Development of a smart winch system for a robust cable-driven parallel robot application" (Root Industry Leading Company Promotion Program). The purposes of the projects are to develop key technology of cable robots by performing joint research on the core and application technology of cable robotics and the development of robust smart winch system, respectively. Also, we have been conducting the project funded by robotics company SMEC, "Development of Robotic Couch Control Software for Heavy Ion Therapy" in order to develop advanced control software for precise control of robotic bed for heavy ion therapy, which will provide patients suffering from cancer with non-invasive surgical intervention minimizing damages to neighboring normal cells.
Photo Album